A Puddle Duck Racer or PD Racer is an 8 foot (2.44 m) long, 4 foot (1.22 m) wide, 16 inch (40 cm) high, spec series, racing sailboat or day sailer. It is a one design hull shape with wide options in other areas. Billed as "the easiest sailboat in the world to build", the scow hull is a simple box, usually built of plywood. A sideview of the hull dimensions can be seen to the right. PD Racers have a Portsmouth Handicap rating of 140.0 and their USSA code is PDR.
The PDRacer is a developmental one design racing sailboat that is basically a plywood box with a curved bottom, and is the easiest boat in the world to build. The rules are aimed at keeping the lower 10" of all hulls the same, but the rest is up to the builder. A simple hull can be made from 3 sheets of plywood, titebond II glue, and latex house paint. If you work hard for 2 weekends, you can go sailing on the 3rd weekend. If you are really in a hurry, it is possible to go from lumber to the lake in 5 days.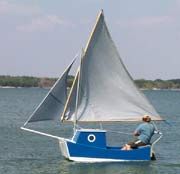 The PD Racer was designed by David "Shorty" Routh, and was influenced by the $50 Sailboat Race, The Moth Class, Gavin Atkins's Mouse Boat group, Jim Michalak boat designs, the Phil Bolger "Brick" design, and a number of other box boats. While the hull designs of the Puddle Duck Racer and the Bolger Brick look very similar, the only similarities between them are the rectangular perimeter shape. The PD Racer design was first published & released on July 7, 2003, the first PD Racer hull was built in January 2004. Despite the design's young age, as of September 23, 2010 there were 500 PD Racers registered globally, primarily in the United States, but with growing fleets in other countries also, such as Australia, Canada, England, Ireland, and South Africa on a total of five continents with a scattering of other locations such as Hong Kong, Switzerland and Africa.
The top three areas that are home to a large number of puddleducks are Texas, the Okanagan Valley (located in British Columbia, Canada) and Australia. To register a hull and receive a hull number, the basic hull (four sides, and two airboxes (or chambers) attached to a plywood bottom) must be assembled (called "going 3D" by the builders). Puddle Duck Racers generally are built with two airboxes (either two at the front or back, or two on the sides (if they are built on the sides of the boat, they provide a practical seating area for the crew, making it easier to navigate without the hassle of seeking for visibility around your sail)) that are designed to keep the boat afloat if it were to capsize and can act as useful storage area for emergency paddles or other items. With two world championships under its belt, and many regional competitions, the series looks to continue growing at a steady rate.
Don't know how to sail?
For most of the people that build these, it is their first boat too and they don't know how to sail either !! Sailing is easy, just point the boat in the direction you want to go, then pull in the sail till it stops flapping. The best way to learn is to have your own boat, and take it out on a very light wind day, on a very small lake, and give it a try. Take a set of oars, and if you can't figure out how to sail back, then drop your sail and row back. If you know a sailor, then invite them along and they will help you out, the PDRacer can easily carry 2 adults.